Festival in Serbia
We Are SingingDunum
Belgrade is the capital of Serbian culture, education, science and economy. As a result of its tumultuous history, Belgrade has for centuries been home to many nationalities and all of this make it so intresting! When you find yourself in Belgrade, you will definitely be impressed by its soul and its history, of which the Serbs are very proud. There is no place in the world with such a natural combination of oriental passion and European finesse.
Choirs come from all over the world to take part in this festival, now in its third year. Performances are organized in the most beautiful churches of Cracow and Grand Concert at Hall of Bochnia Salt Mine.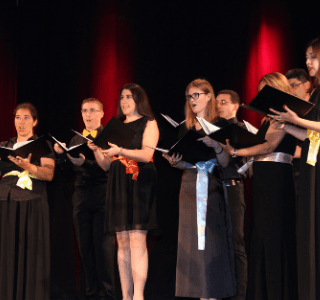 Kolarac Concert Hall

The construction of an impressive edifice of the Kolarac Foundation, measuring 4500 m2, was completed in 1932. The architect Petar Bajalović, having an extraordinary sense of architectural finesse,

first tackled the issue of the Concert Hall space. The most advanced scientific acoustics solutions of the time were applied to the effect that even today the Kolarac Concert Hall has been regarded as the most acoustic venue for music performances in Belgrade.
Director's choice of repertoire (2 songs + final song) | 1 hour

23-25.09.2022

22-24.09.2023
Is your group eager to perform? Apply online today!
Please submit the online application or download application form
Download the PDF form.
Fill in all fields directly on the computer.
Print out the form, sign it and send it by e-mail to us.
Every Festival package includes:

2-, or 3- nights in Belgrade with accommodation in the chosen category in singles, doubles and triples

Daily breakfast buffet

1 Dinner

Welcoming Cocktail
Performance Opportunities
A 20- to 35-minute performance -Two (2) Festival Concert
L
ocal Guide and Special Events
Sightseeing Tour of Belgrade with a local guide

Participation in the Opening & Closing Ceremony

Exclusive prize Festival We Are Singing for all choirs

Please note: This package does not include transportation.
Fill out the questionnaire below to let us know about your group's interests, so we can contact you with details about programs, pricing and availability.
Serbia is a land-locked country located on the Balkan Peninsula in Europe. The north of the country is flat, while the central and southern parts are hilly or mountainous.
Serbia's culture is shaped by centuries of merging between different ethnic groups. Greek, Middle Eastern, and Mediterranean influences can be found in several Serbian foods.
Thanks to its eventful history, Serbia has a variety of cultural and architectural monuments – medieval monasteries with their fresco paintings and icons, beautiful mosques, medieval and Austro-Hungarian fortresses, baroque churches. Serbia has a very rich folklore, which consists of national traditions and customs, traditional costumes which differ from one region to another, folk dances and songs.