Festival in Slovenia
We Are Singing Ljubljana
Looking for a non-competitive festival in Slovenia?

This festival provides the opportunity for choirs to meet and mingle with other participating choirs and to hear choral performances from around the world.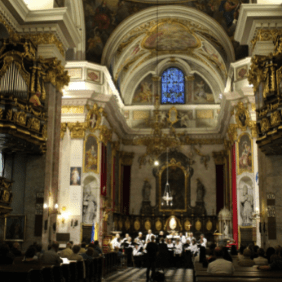 Cathedral of St. Nicholas
Cathedral of St. Nicholas is located in the center of Ljubljana and it is more than 300 years old building. The first church in this same spot is mentioned already in the year 1262 and it was built by Ljubljana boatmen and fishermen in honour of their patron St. Nicholas. The interior of the church is really breathtaking and it is a work of several artists who created and upgraded it over time. The main doors are called Slovenian port and represent the 1250 years of Christianity in the Slovenian area. Side doors represent the Ljubljana diocesan history in the 20th century and are called the Ljubljana gate.
Program: A Cappella | Sacred Repertoire | Duration 10-15 min per choir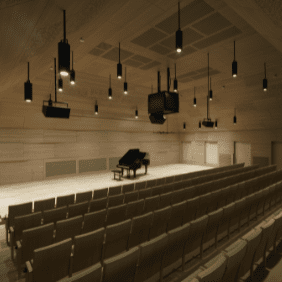 Hall of the Conservatory of Music and Ballet

The beautiful hall at Ljubljana will provide the setting for Choirs in concert. The Ljubljana Music and Ballet Conservatory was established in 1953, when it separated from the Academy of Music and launched the Secondary Music and Ballet programme.
Today the conservatory offers specialised education in music.
Program: Director's choice of repertoire | Duration 10-15 min per choir + final song

21-23.10.2022

20-22.10.2023

Is your group eager to perform? Apply online today!
Please submit the online application or download application form
Download the PDF form.
Fill in all fields directly on the computer.
Print out the form, sign it and send it by e-mail to us.
Every Festival package includes:

2-, or 3- nights in Ljubljana with accommodation in the chosen category in singles, doubles and triples

Daily breakfast buffet at the hotel

1 Dinner

Welcoming Cocktail
Performance Opportunities
A 20- to 35-minute performance -Two (2) Festival Concert
L
ocal Guide and Special Events
Sightseeing Tour of Ljubljana with a local guide

Participation in the Opening & Closing Ceremony

Exclusive prize Festival We Are Singing for all choirs

Please note: This package does not include transportation.
Fill out the questionnaire below to let us know about your group's interests, so we can contact you with details about programs, pricing and availability.
Slovenia
We would like to introduce Slovenia as a country that has plenty of offer in its own right. Its landscapes are sharply contrasting, from its soaring Julian mountains to the warm waters of the Adriatic, with beautiful rolling fields and meadows in between, dotted with delightful villages and majestic cities full of charm and character..