Festival in Poland
We Are Singing Cracow
Cracow is one of the best festival cities in Central Europe. From theater, art, literature, music, dance and food, it provides its citizens and visitors with unique cultural experiences and spectacular entertainment. Though not the capital, Cracow is the cultural and intellectual center of the country — and deservedly Poland's most popular destination.

Choirs come from all over the world to take part in this festival, now in its third year. Performances are organized in the most beautiful churches of Cracow and Grand Concert at Hall of Bochnia Salt Mine.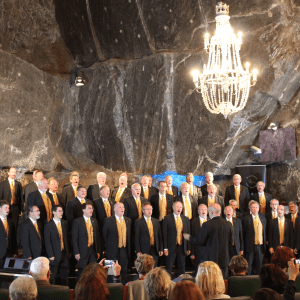 Bochnia Salt Mine
The Salt Mine Bochnia is the oldest salt mine in Poland.
The beginnings of the Bochnia mine as an excavating plant date back to 1248. Being a royal facility, the mine generated a huge income.The mine was first accorded legislative protection in 1981, and it has subsequently been recognised as a national monument. In 2013 it became part of a UNESCO World Heritage Site when the designation of the mine at Wieliczka was extended. The mines has 4.5 km. of galleries at 16 levels between 330 m. and 468 m. below the surface. The August Passage, almost 3 km. long, driven between 1723 and 1743 under the management of Jan Gottfried Borlach, provides access for visitors, and links a succession of chambers created by the extraction of salt. Some large wooden machines have been preserved, together with railways that were used for underground transport. The largest chamber, 225 m. long and 14.4 m.
Program: Director's choice of repertoire (2 songs + final song) | 1 hour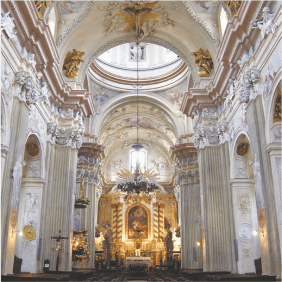 St Anne's Church
The University Church of St. Anne is situated near the Collegium Maius, in the UNESCO-protected historic centre of Cracow.
It is one of the leading examples of Polish Baroque architecture designed by Tylman van Gameren, however, the church's history dates back to 14th century. Its architecture and decoration recall the Italianate style. A gifted sculptor called Baldassare Fontana, educated in Rome and a follower of Bernini and Borromini, was employed here. The walls were painted by Innocenzo Monti and Karol Dankwart.
Program: Sacred repertoire| 15-20 min each choir
13-15.05.2022

31.03-03.04.2023
Is your group eager to perform? Apply online today!
Please submit the online application or download application form
Download the PDF form.
Fill in all fields directly on the computer.
Print out the form, sign it and send it by e-mail to us.
Every Festival package includes:

2-, or 3- nights in Cracow with accommodation in the chosen category in singles, doubles and triples

Daily breakfast buffet

1 Dinner

Welcoming Cocktail
Performance Opportunities
A 20- to 35-minute performance -Two (2) Festival Concert
L
ocal Guide and Special Events
Sightseeing Tour of Cracow with a local guide

Guided visit Bochnia Salt Mine

Participation in the Opening & Closing Ceremony

Exclusive prize Festival We Are Singing for all choirs

Please note: This package does not include transportation.
Fill out the questionnaire below to let us know about your group's interests, so we can contact you with details about programs, pricing and availability.
Poland has a history that dates back almost a thousand years, with stunning medieval architecture, remnants of WWII and its devastation, and castles and palaces in every corner of the country.
But this ancient country is also home to expansive national parks, mountains, and lakes, with seemingly endless trails cutting through virgin nature waiting to be explored.
No matter why you're heading to Poland, discover the most stunning destinations with our tours.